Which camera to take for your trek? – This is a trickier question than it may seem. When you go to the mountains for the most spectacular views one can see and sweat and toil to get there, you absolutely want to ensure you take back the best pictures and videos from your trek!
But!
Taking anything on a trek needs to be carefully considered because you have to carry it all the way on your back, fit everything in a 50 -60 lit backpack, plan for having no charging points and worry about keeping the gear safe and protected in that environment.
This is the reason, it confuses a lot of trekkers and we get asked this question a lot – which camera to take for a trek.
We will try and not give you a wishy-washy "it depends" type of answer and give your our quick takes on each of your options. As such, your likely options are (each of these are available to RENT for your trek on Bragpacker.com, so we are as such, unbiased 🙂 ):
A DSLR/ Mirrorless Camere with 1-2 lenses
A point and shoot camera
A Gopro (Hero 9, 10,11)
Some other action camera like the Insta360 Go 2?
A 360* camera (GoPro Max/ Insta360 X2)
A Drone
A mobile phone
While, a DSLR can give you with the best image quality due to the fact that it provides you the maximum control over image framing and exposure and be sharp even in low light conditions, it has its clear downsides. Even the mirrorless avatar can still be too bulk and will require you to carry a separate, well padded camera bag. Also the gear can be quite expensive and you will always be worried about breakage on a trek.
So we would say, a DSLR is a no-no unless you are on a very photography centric trip where taking artistic pictures of the best quality is your prime motivation. In which case, we do recommend that you carry a wide angle lens with you as well, in your kit!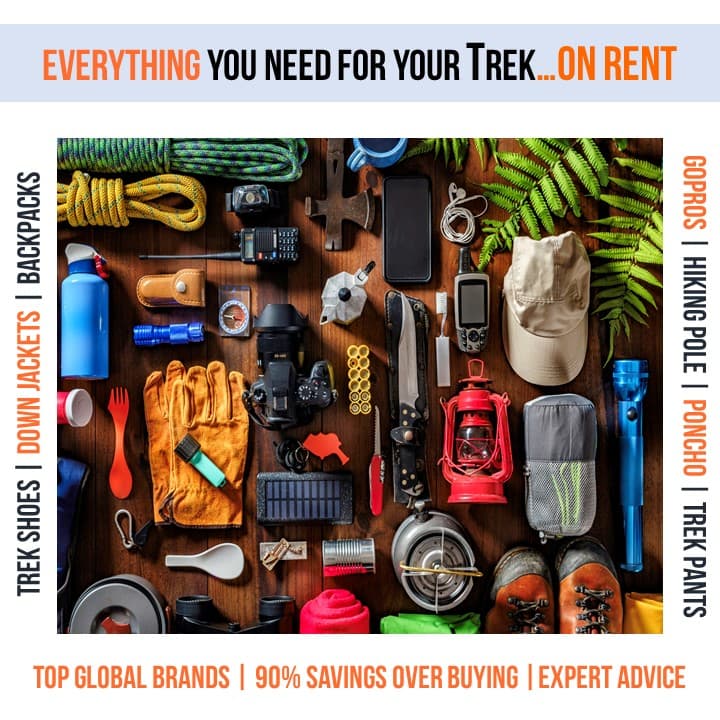 Not just a camera, you can RENT a full range of top-quality trekking gear from Bragpacker.com. Click here to see our range
Back to the camera discussion…
A compact camera can over come several of the DSLR's shortcomings perhaps at the cost of some image quality or atleast as much control over the image. However, compact cameras come in various sizes and features and the latest super zoom ones (that have 15-30x zoom) in pocket sized bodies are certainly a viable option for a trek – especially for those who are more still photo focused and want zoom beyond what other options can offer.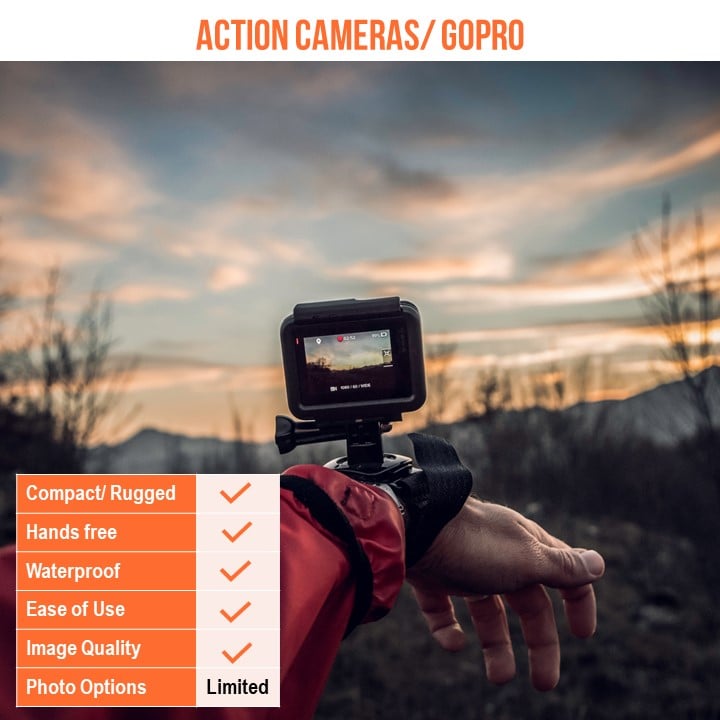 Perhaps the most obvious choice for treks, the Gopros are compact, waterproof, extremely rugged and very importantly can be mounted on your head, chest, shoulder, backpack and all sorts of crazy places. A GoPro's only draw back may be that the still photography options are limited with a single wide angle lens in it – the zoom feature has limited use, so framing shots can be a challenge and taking pics of faraway peaks is difficult. Where it shines though is in it's video capabilities with 4-5.6K output, slow motion, excellent image stabilization, time lapse and horizon lock features. It is definitely the default option for a trek in our opinion.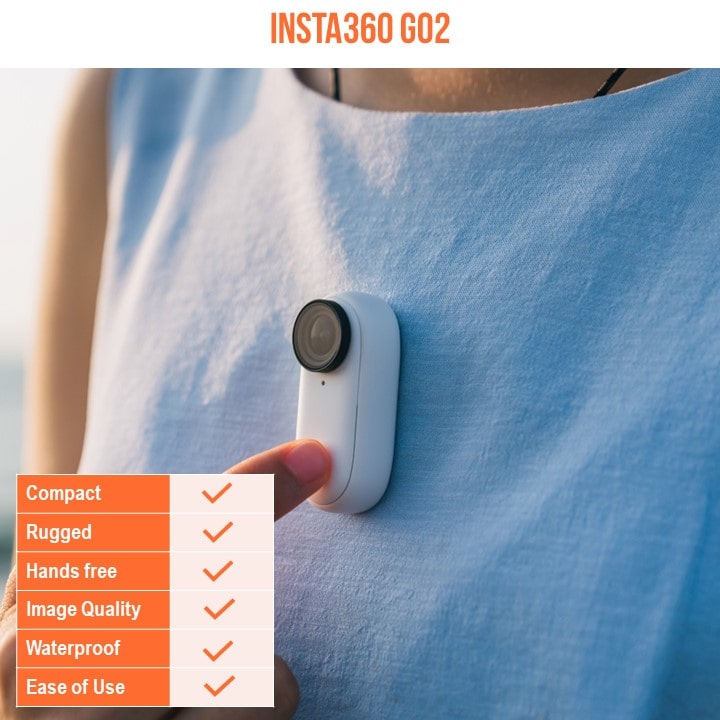 The Insta360 GO 2 is in our view, the most standout action camera that is almost perfect for a trek. It is insanely compact, even more than a Gopro, is very intuitive to use, has really cool mounts built in and has excellent video features including image stabilization. We absolutely love the pendent mount for recording your trek in short videos. The app is also quite cool with lots of effects possible to do at a click of a button.
The only drawback to the Go2 is the lack of a screen to see your composition. But it's a worthy sacrifice for the compactness of the system
A 360 camera is actually at home in the mountains, where you are surrounded by stunning views in all directions. There is no doubt that 360 images and videos are far more immersive and interesting and actually do a much better job of taking you to that place on playback, more than any image or 2d video can achieve
However, they are not handsfree as much as a Gopro, require some thought in setting up a shot and more importantly, will require atleast a little bit of post editing. If you are into creative photography and dont mind spending some time in front of an editing software, this is a great option for treks – just take care of the bulging lenses of the camera, they scratch easily.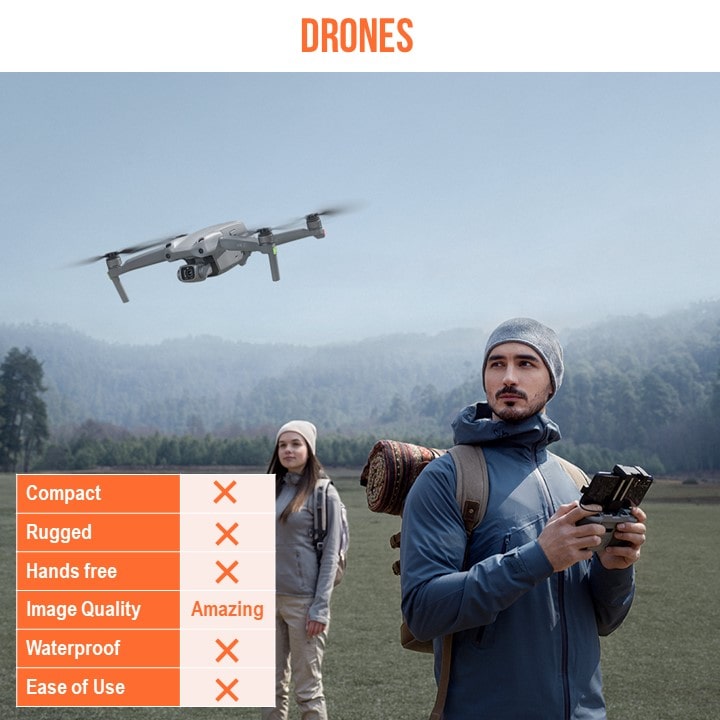 And ofcourse the drone has to be considered. For those EPIC shots, there is no beating the drone. It may see more than you see with your own eyes and record views that are even more spectacular than you have witnessed, with it's birds eye view.
The only drawback is that atleast in India, the national and local restrictions on flying a drone can be a dampner. As such, outside of Kashmir, most treks in Uttarakhand and Himachal will allow for drone flying in atleast some areas (please do your own due diligence here). Drone flying does slow you down though as setting up and recording can take time. Also the whole thing can be quite bulky with controllers etc. Do note that GoI has banned the sale/ purchase of Chinese drones in India recently.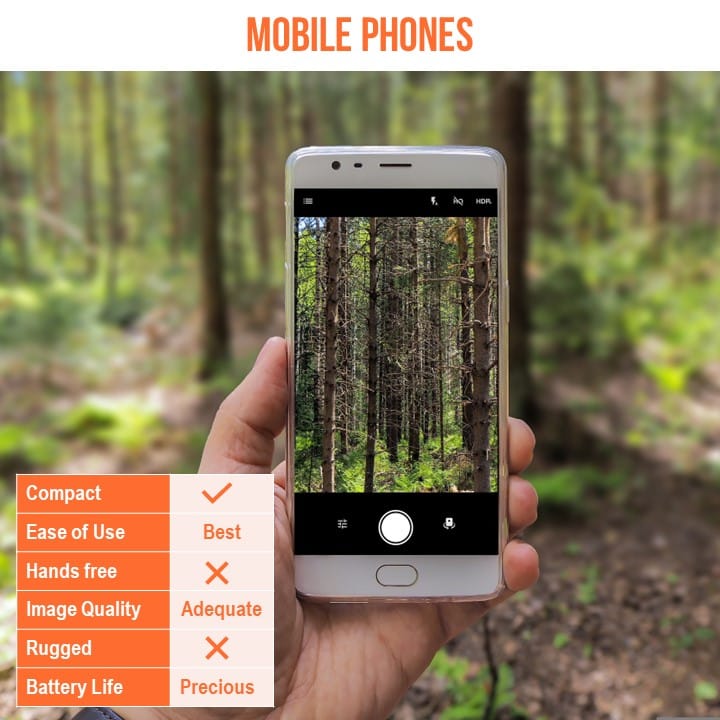 And finally the option that many will anyway choose – your personal mobile phone. While it is impossible to beat the convenience of your phone and in many cases, the computational imaging of the latest phones offers eye popping results as well, we feel a phone should not be your primary photography device. It should be saved (i.e the battery life) for more important things like communication and emergency assistance. If a phone breaks, it can complicate your entire trip as it stores so much important data. Another drawback of a phone is that it does not have replaceable batteries. A power bank can certainly help, but for multi day treks, those will also be inadequate.
For the casual photographer, a phone may still be no-fuss solution. But your trek deserves better!
Hope, our take helps you make the right choice for your trek based on your needs. Whichever option you choose, at Bragpacker, you have access to all of these and more and in an affordable and sustainable way!
Happy trekking!