Did you know the word 'monsoon' came from the Indian word "mausam"? The monsoon season is only typical to the Asian-Australian and West African regions. And the Indian monsoon is indeed a sight to behold. Water puddles along the roads, burgeoning lush greenery all around and the wonderful cool winds carrying petrichor make you yearn for long drives and treks along mossy hills and waterfalls. Ofcourse, at Bragpacker, our thought immediately turns to the gear we need to enjoy the unique pleasures of monsoon travel.
So we have added a few products to our repertoire specially for you to be able to soak in the splashy fun, without letting any creep into your gear. As is our wont, we have picked the best waterproof gear specialist in the world– Aquapac as our chosen brand. These guys have the enviable position as the preferred waterproofing brand of professionals as well as consumers across 60 countries. We really like their simple easy to use designs and just to underline the quality of the product, they all come with a full 5 year warranty.
So here are some accessories by Aquapac that will help you keep your belongings as dry as the desert, whether you're enjoying the best of the season in Kerala or the hills of Maharashtra:
Our smartphones are not only our most precious possessions but also extremely handy travel mates, critical to plan, manage and record our trips. So a protective case for them is a must for any outdoor activity during the rains. This case is a lightweight, easy-to-clean and convenient cover for your phone – regardless of the size. The transparent material used is also ductile enough for you to use the touch screen, while the phone is in the case.

Waterproof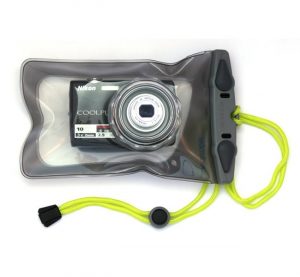 Camera Case & DSLR case:
The brilliant scenery in the monsoons demands to be captured, and Aquapac's mini camera case has been a favourite for years. Suitable for digital cameras, the case comes with a hard acrylic lens, that helps you click high quality pictures, and will protect your camera even if you're under a waterfall. There is a separate case for yoru DSLR too. With the ultra-secure patented Aquaclip, that locks away moisture and air with a simple twist of two levers and the signature acrylic hard lens cover, you don't need to remove your camera from the case until you're in the dry safety of your home. Additional bonus: It floats on water, to avoid any accidents.
Belt Case:
For all the miscellaneous but important things (wallet, watch, jewellery, medicines etc.) the Belt Case is a pouch that can be carried around your neck or on the waist. It also gives added protection from dust, dirt and sand. Waterproof up to 12 ft of water, pop all your important things into this pouch and go for that plunge into that water dam without a worry!
Going for an overnight trek? Aquapac's Daysack and Drysacks come in a variety of sizes that cater to your needs. From a 28L backpack that will last you a weekend worth of daytripping to a basic 15L sack that can go within your bag, to a smaller 8L pouch that can fit in your handbag – it's the most secure way of keeping all your belongings dry, based on your need. Designed keeping the user's comfort in mind, the tough vinyl also resists scrapes and abrasions you might get on the trail.
Stormproof Padded Drybag for Laptops:
Yup! There is a waterproof bag designed for your laptop too. When work and play have to go together or when you just need to carry your precious laptop with you to the great outdoors, the Stormproof Padded Drybag will keep your laptop protected from water and minor bumps along the way.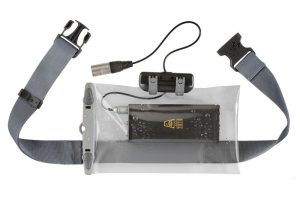 Connected Electronics Case:
When wires around water are indispensable, use this case to protect the electronics equipment whilst still using wires with it. The innovative design lets the case waterproof your gadget while allowing a feed out of a wire of up to 2.5mm diameter from the case.
A few of these products, a raincoat or a poncho, a heavy duty torch and you are good to go wherever you wish, rain or shine no matter.
Still not convinced? Bragpacker offers you the unique chance to try out the products and rent them, and if you like them, you can buy it off us for the best price, so that you can enjoy the monsoon and save for a rainy day!