Baby carriers offer a hands-free way of carrying your baby with the bonus of keeping your baby close to you all the while. Experts say baby wearing can soothe a fussy child, help lower a mom's risk for postpartum depression, and promote bonding with parents. Not to mention the convenience of moving around easily and navigating crowded places, while carrying your baby.
Baby carriers are especially useful when travelling and provide a great way to carry your baby at airports, in the airplane or generally being out and about. Nearly all carriers keep your baby in an upright sitting position. They also have backpack-like padding and straps, so adjustments can be made easily.
However, when it comes to baby products and especially with carriers, not all are made equal. There are a wide variety of carriers available of varying quality and design. This is not a product you can make do with – it will either work with your baby or you will have to dump it completely.
Hence, we have put together a few things for you to consider before making your buying decision:
Structure of the carrier: There are different kinds of structures for baby carriers – from wraps to soft structured ones to ones with firm body frames. A wrap is usually soft and easy to pack away and provide the most intimate way to carry your baby, especially useful for infants. Soft structured carriers provide an easy way to carry your baby in an upright sitting position and are portable enough to carry everywhere. Hard structured carriers are usually stronger, consisting of tougher fabrics and ideal for toddlers. They are great for taking your baby for treks and other more strenuous adventures. So depending on your baby's age/size and your typical use, you should identify the structure that is most appropriate for you.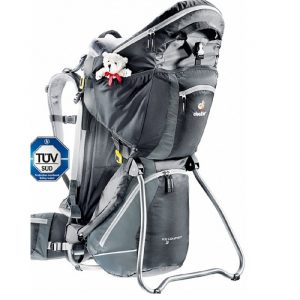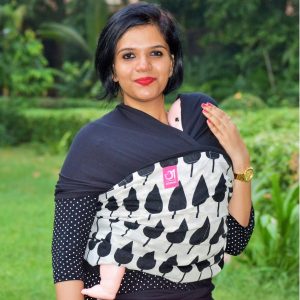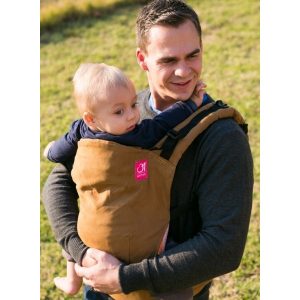 Above: The Deuter Hard Structure carrier, the Anmol Baby Wrap and the Anmol Soft Structure Carrier
Comfort for both, you and the baby: Look for wide, well-padded straps or sturdy fabric to distribute your baby's weight evenly and save your shoulders, neck, and upper back from strain. Many structured carriers come in both regular and extra-large sizes for tall or plus-sized parents. With front carriers, look for padded leg holes that are loose enough not to constrict your baby's thighs. Your baby will probably sleep in the carrier, so you may want one with a padded headrest to support his/her head and neck. Make sure there are adequate straps around to adjust the fit of the carrier so that you can get into the best position for your and your baby and be able to adjust them as your baby grows.
Ease of use: Unless you are willing to put in some time learning the ropes, make sure your carrier is easy to navigate by yourself, preferably with one hand. You should be able to take it on and off and get your baby in and out without help. Some structured carriers are designed to unbuckle easily so you can move your sleeping baby into a crib or stroller without waking him/her.
Weather-appropriate: Some carriers may be too warm for the Indian climate and darker colours really heat up. If you'll be carrying your baby in hot weather, choose one that's made of lighter fabric and doesn't trap heat.
Easy to clean: When on the go, especially, you'll want to ensure the carrier is easy to put through the washing machine, so that it's dry and ready for use in a few hours.
Ultimately, carriers do take a little bit of getting used to, especially for the baby. Hence, at Bragpacker, we have introduced a Try and Buy option for our picks of baby carriers, so that you can actually check if your baby adjusts to the carrier well before buying it.
Travelling with babies can be extremely fulfilling for parents and exciting for babies, with the proper prep (see our Blog about tips on travelling with babies here) and equipment (check out our range of baby travel products here) and a baby carrier is an essential piece of equipment for any such plan. Choose wisely and Travel well!