360 degree cameras represent the next big step in how we capture our world on film, since the advent of digital cameras. With the popularity of Facebook live and Youtube 360, they have gained increasing traction and are perhaps the most fun you will ever have with a camera.
If you havent yet explored this nifty gadget, you better catch up as life in 360* is taking photography to a whole new interactive level and is likely to change what we can do with a camera forever ! Read on for a crash course. 
What are they?
As the name suggests these cameras let you shoot 360° images or even videos i.e capture everything around you above and below and on all sides 🙂
Conventionally there two ways you shoot a 360º image:
You can take a single photo with a very wide

ang

le lens

or pair of lenses,

Or you can take multiple shots from different angles and stitch them together.
Recently wide-angle lens cameras, like in the GoPro, which have a 180º wide angle of view and can see even beyond the human eye (most people are able to see upto about 160º) have become very popular to shoot videos, timelapses,etc. Then there are cameras like the Kodak SP360,  that have a single super wide angle lens on the top of the camera, rather than on the front, and it takes in an amazing 360º horizontally and about 214º vertically. But even as you go so far, you still miss out on the view below the camera, making it not a true 360* experience.
So is it really possible to get a 360º image?
The answer is yes. A true 360º x 360º image which goes all around the field of view can be simple achieved with two lenses back to back, and this is how these new 360º cameras roll. Functioning like a spherical shaped lens, they capture the view around the camera providing a mostly uninterrupted view. Needless to say, you will be in the shot if you are in the frame. 
How to use them?
With the rising popularity of virtual reality and 3D technologies, the dimensions of our world view are evolving as we speak. If you have used a GoPro before, handling this one won't be a task at all. Infact, 360* cameras are pretty straightforward to use  as you just need to mount them and start recording. Several brands have already launched multiple models of 360* cameras with varying success – popular among them are from Ricoh, Samsung, LG and several upcoming tech startups (as the key component in 360* is the software).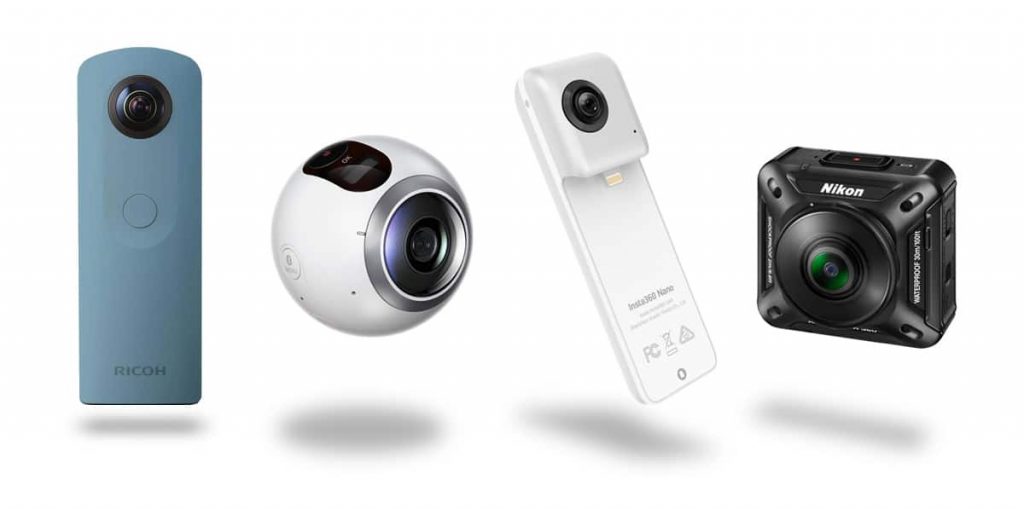 Does that mean the camera's position is not important?
Wrong. While you have the ability to alter point of view, where you choose to hold or place the camera can make or break your image. For eg: If you want to record an entire room, you need to place the device vertically in the center of the room almost equi distant from all the subjects in the frame you wish to capture. Remember that these cameras don't come with a zoom function (yet), so placing it closer to the subjects you wish to highlight and further from the ambient background will determine your frame. While riding on a bike, stick it on the handlebar and not your helmet), in a car put it on the dashboard and not the steering wheel.
Where to share them?
You can easily share it on your video on YouTube, Periscope (for twitter) and your Facebook wall. Most cameras come with dedicated apps that help you do that with a few taps of a button. These images can also be shared on whatsapp but without the ability for people to move around within the image – the images will appear like from a fish eye lens. Interestingly, many of these 360* cameras actually allow you to record VR (Virtual Reality/3D) videos. All you need is a VR headset to view it, which would obviously be an offline experience. 
How awesome is it really?
In one word – really awesome ! Imagine an Avataresque experience with you in the staring role & all recorded when you are on the move! There are already thousands of 360* videos/images out there – just google them up to see their immense potential. Remember that we are yet in the nascent stages of this technology, so some bugs remain in terms of image quality etc, especially when uploaded on Youtube. But one can already get 3k-4k quality images out of 360* cameras and even 8k is now being offered by some!
Look for the circle with up/down and sideway arrows to maneuver your video angle!
Where to get them?
Bragpacker.com stocks the most portable and easy to use 360* camera out there, which you can Rent/Try for Rs. 200/day. Shaped and sized like a golf ball, the Insta360 Air VR Camera For Android is truly the most compact and compelling form yet for a camera. It turns your Android phone into an immersive VR 360-degree camera; and provides a simple introduction to 360-degree stills and video. All you have to do is, plug it into your phone, download the app and shoot away!
Watch and learn
Know more
Livestream your life in 360 deg. on Facebook, YouTube or share pictures instantly.

Capture images or videos in 360 HD, up to 3K.

Plug into your laptop using USB and use it as a 360 Webcam.

Experience VR, just capture 360 images/videos in one touch and watch it in 360 on a VR set.

Simply clip it on your phone to shoot and store it in your pocket when you're done.

Advanced Image stabilisation.

Take a look at the camera's features- Click

here

.
Rental starts at ₹200/day. Book now!
Stay tuned for more 360* camera additions to our product listing to ensure you get the best and latest travel gizmos to try first on Bragpacker.com !