If you're travelling with your little one, picking the right stroller can play a huge part in determining how comfortable the journey is for both you and your kiddo. Whether you need to push your little one around from one stretch to the other at the airport, or want to take a hassle-free stroll with them through a new city, a good stroller can help you accomplish both of these things. And, the Chicco Echo New Stroller is a rather fine choice, currently available in the market. To clarify, this is an updated version of the popular Chicco Echo Stroller and called by Chicco as the "ECHO NEW". Get around town safely, easily and stylishly with it; here are four key reasons why! –

1) Handles More Weight
The new Chicco Echo Stroller's biggest advantage is that it can handle up to 22 kilograms – most strollers can only take 15 kilograms weight of a child. So, you can actually use this stroller a little more long-term as your child continues to grow. Added bonus – there's a handy storage basket, which can also handle 3 kg of weight!
2) Light-Weight To Carry
Although the Chicco Echo Stroller can handle an impressive 22 kilograms weight, it is itself rather light-weight – under 7.5kg, making it easy to take along with you on various journeys. Furthermore, with a single-hand umbrella fold, you can quickly fold and carry it with a convenient strap provided. The compact design it boasts of makes it a piece of cake to store not just during your travel, but also at home.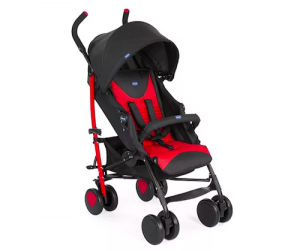 3) Better Canopy
Needless to say, you don't want to overexpose your little one to too much direct sunlight. This new model has an overhead canopy that is much better than the older one. Maintain your peace of mind knowing your tiny tot is protected from the sun's rays.
4) Trendier Look & Feel 
This new model looks a lot more premium, sportier and trendy with a red 'n black color scheme. The wheel caps and matching bar do the trick! Plus, this stroller carries the standard Chicco brand values of reliability and overall sleek design, too. The lockable swivel front wheels, footrest, padded seat, 5-point safety harness and 5-position adjustable backrest all offer extra comfort and safety while riding.
If you wish to take a trial run of the stroller before you Buy or just use it for a short while, you can rent it from Bragpacker.com here for as little as Rs 125/day!