There are a lot of factors that determine what sort of luggage you should carry on for the smoothest travel experience – the number of days you're travelling, the climate and terrain of locations you're visiting and activities you're going to be indulging in, for example. Let's take a look at 5 different types of luggage options and what they are most suitable for!
1. Backpacks
Whether you're travelling for a really short duration, going on a trek or plan on literally backpacking from one place to the next like a gypsy soul, backpacks give you amazing mobility to just pick up and go whenever and wherever you want to. Although there are a ton of size and shapes available for backpacks, try to pick something that is 60 litres or less – this should suffice for even month long trips if you make the right packing decisions. A drawback of backpacks is that they are tough to organize and pack/unpack. To manage this problem, pick front-loading backpacks so you access your gear easily, and look for backpacks that have multiple, even detachable, compartments. Using packing cubes is a must when using a backpack. A waterproof backpack is great if you're travelling during monsoon season, too. If you are trekking, definitely go for an option that has a stiff frame and well-padded carrying system, so the weight distribution is spread across your backs.
You can see our curated collection of top class backpacks here.
2. Suitcases
If you're travelling for a long staycation or are going to be in and out of airports a lot, trolley suitcases are the best option – you can keep everything in one place, without having to lug everything on your back. Try to keep the l+b+h dimensions under 156 cm so you can get through airline check-ins without additional fees. Look out for polycarbonate bodies and 8-spinner wheels in suitcases. Many innovations on the bag material have been marketed by suitcase brands, especially in the premium category, that profess durable, but light-weight qualities. Instead of taking the brand's word for it, focus on the warranty period they provide – anything less than 5 years, at least in the upwards of 5k category, may not be as durable as the brand claims.
You can see our curated collection of trolleys in all sizes here.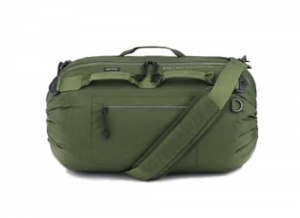 3. Carry-Ons
They come in various forms from totes to trolleys and each trip has it's own ideal choice of carry-ons. The joy of a light daypack on long haul flights through large international airports is immense. So always remember, carry-ons are not carry-alls! In order to qualify as a carry-on piece, luggage needs to be 115 cm or less (l+b+h). There are a vast array of features that you can choose from today –s lash-proof, hidden access points, breathable back system, power bank compatible, trackable RFID, retractable wire lock. built-in hydration pack, you name it!
Pick something that will simplify your journey!
4. Hybrids
If you're looking for the best of both worlds – shoulder straps to keep your arms free (also useful for situations involving climbing stairs, walking on bumpy streets and getting past huge crowds) and a basic trolley system (when you want to give your shoulders and back a rest) – hybrid bags are all-purpose in utility and gaining a lot of popularity. These are especially great for longer trips that could involve everything from trekking to business meetings.
See some options here.
5. Accessories
There are some really handy luggage accessories available, our favorite being packing cubes and packable handbags / backpacks. Simple in nature, foldable cubes let you stay organized and save tons of precious space. Packable backpacks – these literally fold up into a tiny pouch – are also a useful accessory to carry if you foresee some binge shopping happening or multiple trips to the beach.
We hope this information helps you make a more well-informed choice for all your packing needs. In case you'd like to rent out a few options, click here.