If you're about to get married, chances are locking-in a honeymoon destination is definitely on your To Do list. If you and bae love hitting the beach, then you're in luck – we've shortlisted the dreamiest beaches across various budget-points to serve as the perfect first getaway as man and wife! 
Low Budget
If you're on a slightly tighter budget for your honeymoon, there are many amazing beach destinations in India that make for a romantic, relaxing choice.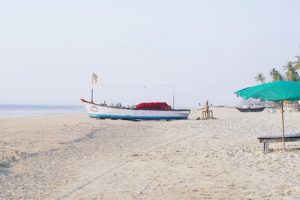 Goa
Goa is always a superb choice for a beach holiday, including a fun honeymoon. Not only does Goa feature plenty of beaches to explore in both the North and South, such as Baga, Anjuna, Candolim, Calangute, Vagator, Miramar, Morjim and Palolem, you'll also find excellent resorts priced at as low as Rs. 4,000 a night. If you're getting married during monsoon season, you might even find fabulous accommodations for an even lesser price. Goa has plenty of amazing restaurants, cafes and shacks to enjoy delicious food. And, there are tons of clubs to party it out, as well as vibrant night markets to shop 'till you drop.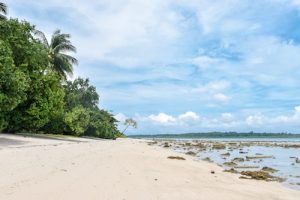 Andaman & Nicobar Islands
The gorgeous blue waters of the Andaman & Nicobar Islands is something many tourists have marvelled about. And, if you want to take a shot at snorkelling or scuba diving, this is the destination to head to. Although resorts are definitely more expensive than Goa – in the Rs. 6,000 – 9,000 per night range – the quality of beaches here makes it worth it. You'll be able to experience quality time with your spouse with a picture-perfect backdrop. Added bonus – the beaches won't be too crowded compared to other destinations.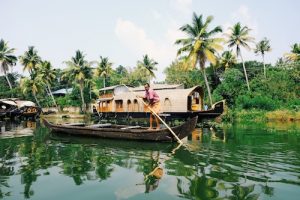 Kerala
While Kerala has plenty of beaches to pick from, Alleppey is an excellent destination because you can actually spend part of your honeymoon on a lovely houseboat, soaking in scenery that looks straight out of a fairytale book. Houseboat stays begin at as low as Rs. 4000 a night. Alleppey also has plenty of shops, cafes and restaurants to explore. And, if you're looking to extend your honeymoon to multiple destinations, you can even divide your time between the backwaters and beaches of Alleppey and the lush hills of Munnar.
Medium Budget
If you're looking to spend your honeymoon outside of India, but are on a budget, too, there are some incredible destinations to select from that not only feature delightful beaches, but plenty of culture, nightlife and other activities. The great thing about all three destinations we've shortlisted below is that you can get a pretty decent hotel or resort for a pocket-friendly price, opening up budgets for flight tickets!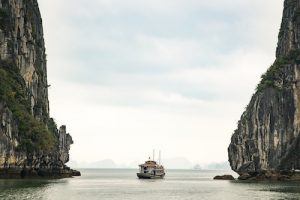 Vietnam
Hoi An not only has excellent beaches, such as My Khe and An Bang, you can also marvel at the colorful lanterns at Old Town's night market, which will leave you dumbfounded with awe. Travel is extremely reasonable if you rent a bike. And, if you decide to spend a little bit more on your honeymoon, flying down to Hanoi to indulge in a cruise at Ha Long Bay is a fantastic idea. If you're only visiting Hoi An, give yourself at least nights. And, if you're clubbing Hanoi along with Hoi An, try to give yourself a total of 6 nights, so you can also explore Ninh Binh's lush scenery near Hanoi.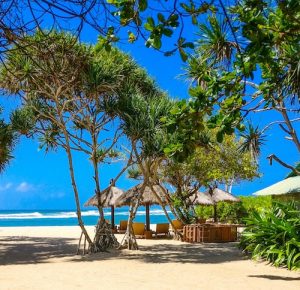 Bali
Not only does Bali feature tons of beaches, each with a rather happening nightlife scene (especially at Kuta!), there are tons of cultural and spiritual aspects to explore, too. Indulge in yoga classes or Balinese massage sessions as a couple in Ubud. Or, hop from one Insta-perfect temple to the next, such as Ulun Danu, Tanah Lot, Ulunwatu and Tirta Ganga. There are plenty of cutesy shops, beautiful cafes, restaurants and bars, and cultural performances, too. You're never going to have a dull moment with your sweetheart in Bali, that's for sure!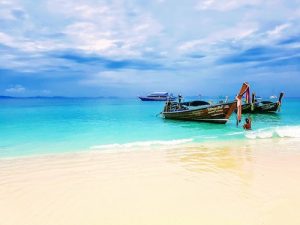 Thailand
While most people thing of Thailand as a bachelor/bachelorette party center, Thailand is actually not a bad option for a honeymoon, either. If you skip the shopaholic's paradise – Bangkok – and head straight to Phuket, you'll find yourself surrounded with umpteen islands and beaches to hop across, including Phi Phi Islands, James Bond Island, Phang Nga Bay and Patong Beach. If you want to snorkel or scuba dive, this is the place to be! Added bonus – there are cultural performances, ladyboy shows and relaxing massages to indulge in when you need a break from the beach.
High Budget
If budget isn't a constraint, and you don't mind a bit of initial jet-lag, there are many luxurious destinations that will make your beach honeymoon memorable. No, we are not going to talk about the usual suspects – Mauritius and Maldives!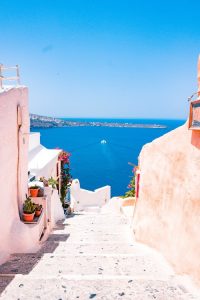 Greece
Ancient mythology. Eclectic history. Jaw-dropping archeology. Fabulous art. Scrumptious food. Goes without saying, Greece is truly a mosaic of experiences set against exquisite backdrops people have marvelled at for generations. Greece consists of thousands of islands, so the number of beaches you have at your disposal is beyond imagination. Give yourself a minimum of 10 nights to explore Greece's gems in their full glory. From the beaches of Mykonos, Zakynthos, Crete and Corfu to the lovely UNESCO site Delphi to the magical monasteries of Meteora to the renowned Corinth Canal, you will never run out of things to do on a honeymoon to Greece.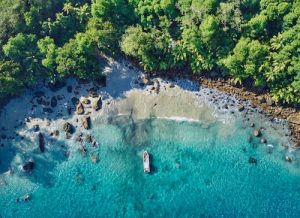 Seychelles
An archipelago of 115 islands, the Seychelles not only features plenty of beaches and nature reserves, it also contains the mountain rainforests of Morne Seychellois National Park, which is worth marvelling at. The three main islands are Mahe, Praslin and La Digue, Mahe being the main point of entry. However, Praslin's beaches are less crowded, making it a paradise for honeymooners – also, you surely won't want to miss Praslin's secret waterfall!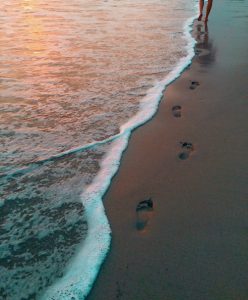 Costa Rica
If you're truly adventurous, head on over to Central America's most jaw-dropping location – Costa Rica! Beaches. Volcanoes. Biodiversity. If you love nature, this is where you ought to be! Tucked between the Pacific Ocean and Caribbean shorelines, you won't be disappointed with the beaches, ranging from Manel Antonio, Tamarindo and Conchal to Santa Teresa & Malpais, Nosara and Manzanillo.
We hope this list helps you identify which beach destination you want to explore during your honeymoon! We wish you a beautiful journey ahead as a couple.